Politics
The federal government believes that now is an effective time to begin an anti-corruption marketing campaign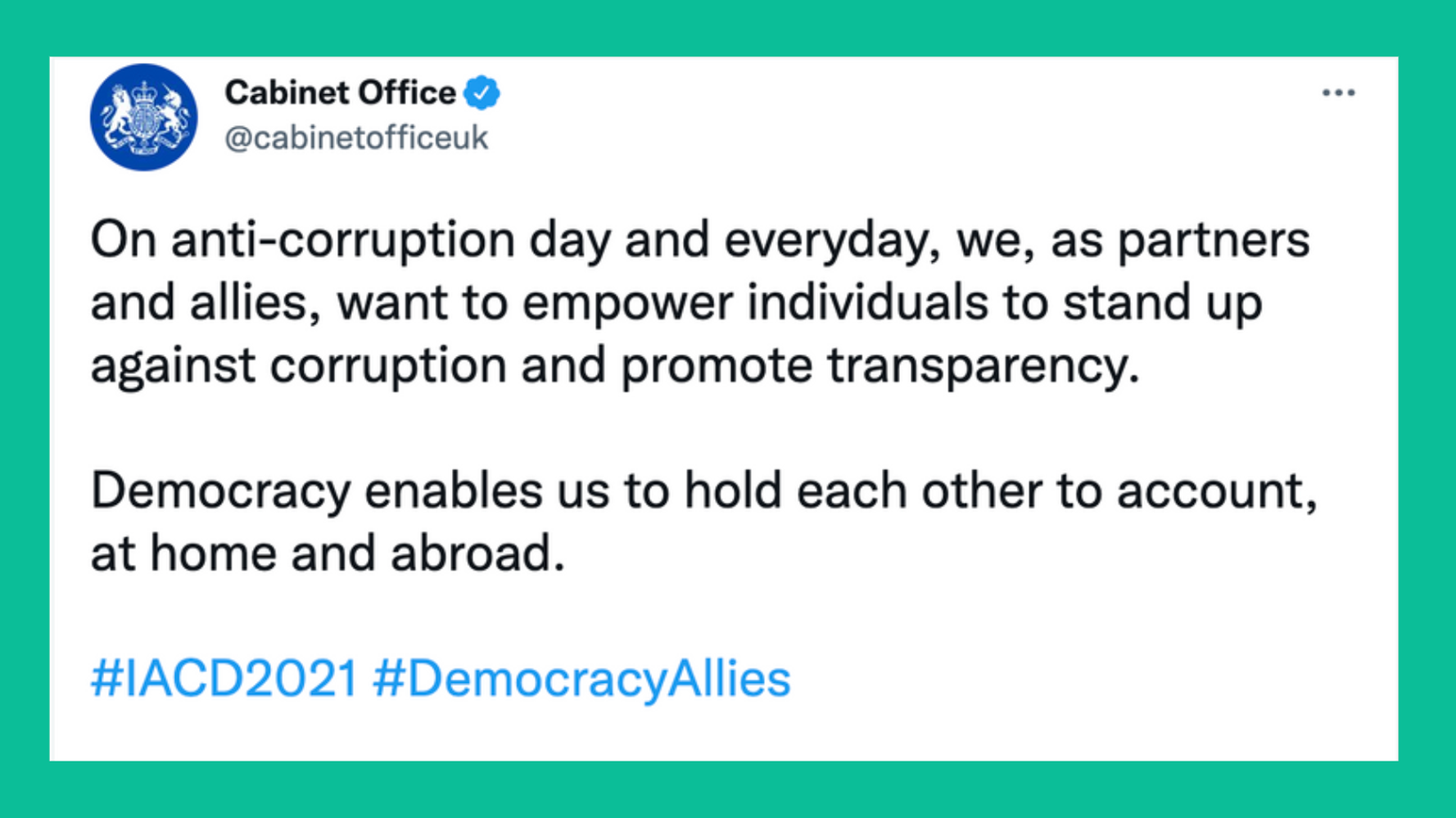 A government department was ridiculed after it decided to launch an anti-corruption campaign the day that Boris Johnson's administration became embroiled in controversy.
A Labor MP accused the cabinet office of "gaslighting" when a tweet urging people to "stand up against corruption" went viral.
The message reads: "On Anti-Corruption Day and every day, as partners and allies, we want to empower individuals to stand up against corruption and promote transparency. Democracy enables us to hold each other accountable, at home and abroad.
"Democracy enables us to hold each other accountable, at home and abroad."
It came on the same day as the British government blocked attacks from all directions.
Johnson faces the question of whether he misled an investigation into donations to renovate his Downing Street apartment after a watchdog fined the Tories £ 17,800.
The Election Commission imposed the fine after ruling that the Conservative Party had failed to comply with the law on Lord Brownlow's donations to cover renovations costing over £ 112,500.
The report raised further questions, however, as it discussed evidence showing that Johnson had sent the peer a WhatsApp message in November 2020 "asking him to undertake further, at the time unspecified, renovation work on the residence approve, "which he agreed to.
Labor has accused the Prime Minister of "lying", but No. 10 insisted Johnson was honest and obeyed the rules "at all times".
Meanwhile, the investigation into suspected Covid-violating parties in the government has expanded to include another celebratory celebration and a reported resignation of employees.
MPs were told Thursday that an investigation into reports of a Downing Street employee Christmas party on Jan.
The juxtaposition of alleged lockdown parties in Whitehall and encouraging the public to abide by "Plan B" Covid restrictions resulted in Johnson being vandalized on the front page of most newspapers.
Government ministers have repeatedly stated that the rules have been respected.
The latest series follow the week-long lawsuits over "Tory sleaze", including the "preferential treatment" in the award of 17 billion lost jobs for second jobs.
It was too much for many on social media.
I think this is also known as gas lighting!
I've said it before and I'll say it again under this corrupt government is going to undermine our democracy. https://t.co/7wcNavhSw5
– Dawn Butler MP✊🏾💙 (@DawnButlerBrent) December 9, 2021