Politics
Have a good time, do not rejoice: ministers do not know what to say about Christmas celebrations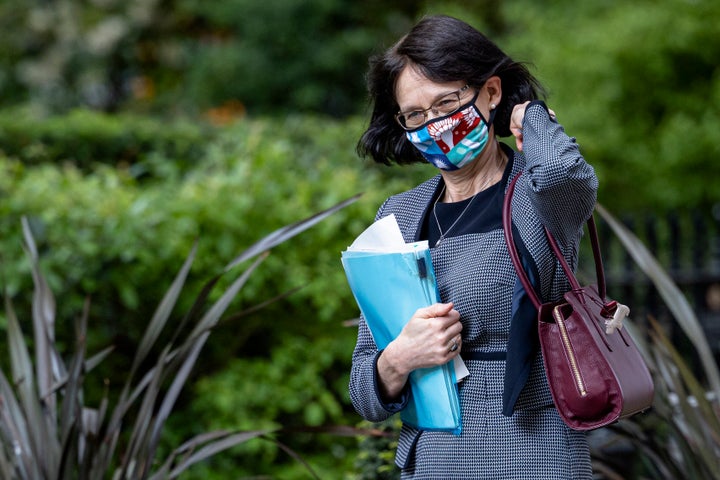 Government ministers last week sent a rather inconsistent message about how the public should conduct themselves during the festive period.
The discovery of the Omicron variant led Downing Street to bring back the mandatory wearing of masks.
But should we also limit our social interactions? That remains anything but clear.
Here are all the ministers' recommendations for Christmas this week.
Cancel your Christmas party
Science Secretary George Freeman announced that he had canceled his working Christmas party and decided to hold it virtually instead when he spoke to LBC on Thursday.
Blaming the discovery of the Omicron variant, he said, "We decided this year that it probably makes sense to zoom in and wait for spring."
Johnson told people not to cancel their Christmas parties
JUSTIN TALLIS via Getty Images
Don't cancel your Christmas party
Prime Minister Boris Johnson specifically said the opposite of Freeman on Tuesday.
When asked by reporters whether or not to cancel Christmas parties, he said, "The answer is no. The guidelines remain the same and we try to take a balanced and proportionate approach. "
He even claimed that nativity plays should not be canceled, adding, "We think that being in school is overwhelmingly best for children."
No smooching allowed
"I think there shouldn't be a lot of snogging under the mistletoe," said the labor and pension secretary Therese Coffey at Christmas parties.
However, she added that the government is working hard so that everyone can enjoy a "knee high".
Speaking to ITV's Robert Peston on Wednesday, she said: "I think we should all try to enjoy Christmas that is ahead of us, and that's why we're working so hard to use as many vaccines as possible."
She later made it clear on Twitter: "Don't kiss people you don't know …"
Watch the full interview folks … don't kiss people you don't know. t.co/3jgYFNM070
– Thérèse Coffey #PlanforJobs (@theresecoffey) December 1, 2021
Do your lateral flow test beforehand
Health Minister Sajid Javid said people should test themselves for Covid this Christmas by doing a lateral flow test before social interactions.
He said, "It's not a formal recommendation, the guide, but if I went to a party with a lot of people" [I would get tested].
"But by the way, I would have done that before we knew about this variant."
He later told BBC Radio 4's Today program, "Go to the party, but just be careful."
Don't socialize
The Head of the UK Health Authority, Dr. Jenny Harries, called on the people on Tuesday not to make any contacts "unless we particularly have to".
She also said that working from home is "a good thing" when the number of cases continues to rise.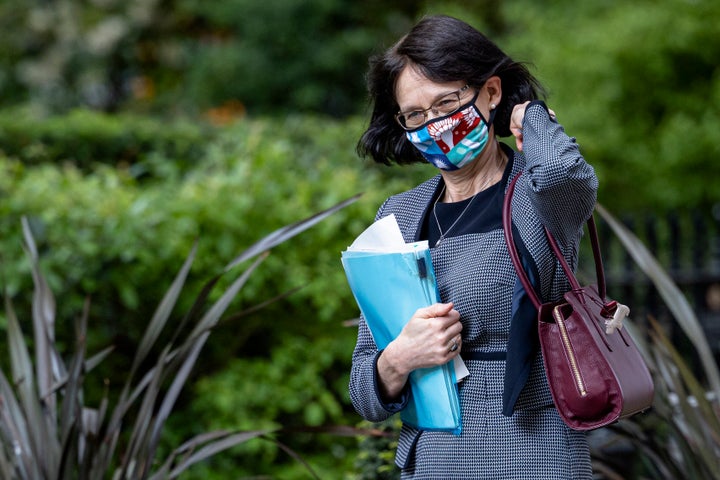 Dr. Harries – head of NHS Test and Trace – urged people not to socialize if possible
Rob Pinney via Getty Images
establish contacts
No. 10 suggested the advice of Dr. Harries, if possible, not to socialize, claiming this is not currently the official advice of the government.
When asked on her recommendation, the Prime Minister's spokesman said, "No. Our advice to the public is like the weekend. "
They pointed out that in addition to the mandatory face covering in some settings, contacts of people who tested positive for Covid and new travel rules, the government had not published any "further guidelines for the public".
Wear a mask – but not all the time
On Tuesday, new rules on the mask requirement came into force.
In shops and public transport, people are now legally required to cover their face, but not in other areas such as theaters, pubs and bars.
When asked if this means you should wear a mask during a Christmas party, Javid told BBC Radio 4, "It depends on whether I'm walking around or sitting down. It depends on whether I am eating.
"People just have to make a decision based on the guidance."
Self-isolation – but not for long
The government announced that double-vaccinated people entering the UK will now have to take a PCR test and their second day in the country. You need to self-isolate until you get a negative test result.
Leaked documents by Sage scientists showed that the government was advised to ask travelers to do PCR tests on the fifth and eighth days of arriving in the UK – meaning they would have to self-isolate for much longer.
However, Johnson has claimed that two-day isolation "was a balanced and proportionate measure to protect the British people from the Omicron variant."