Politics
Ed Miliband Calls Rishi Sunak The 'Dude From Silicon Valley' In Blistering Takedown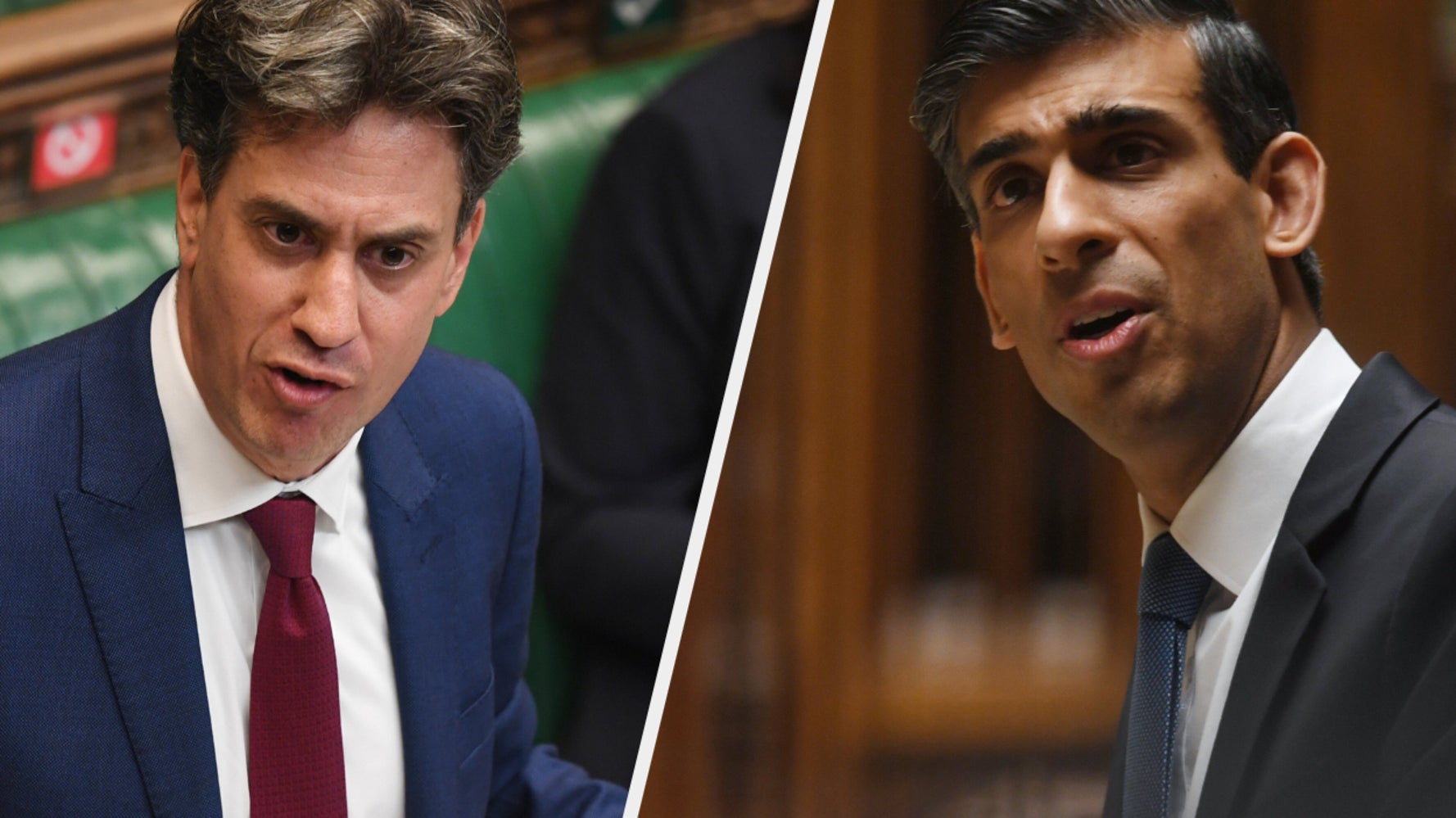 Ed Miliband has launched a devastating attack on Rishi Sunak – comparing the chancellor's tumultuous political career to cryptocurrency.
The former Labor leader, now shadow climate and net zero secretary, dubbed Sunak the "dude from Silicon Valley" as he mocked the Conservative minister's reluctance to increase benefits (the chancellor blamed computers).
In the House of Commons on Tuesday, Miliband condemned Sunak over his refusal to impose a windfall tax on oil and gas giants amid the cost of living crisis, and that his reputation has "crashed like cryptocurrency".
Sunak was seen as the likely successor to Boris Johnson but his reputation has been tarnished by a partygate fine, his wife's non-dom status and revelations he held a US green card of permanent residency while in government.
Miliband said:
"Who does he blame for the massive cut to benefits? He blames the IT system. The dude from Silicon Valley. Madam Deputy Speaker, who is he trying to kid?
"If he had got its act together early enough, of course. he could have raised benefits properly. Indeed, he found it perfectly possible to cut Universal Credit by £20 in the middle of the year in September.
"It is not a case of computer says no, it is a case of chancellor says no.
"It's not the case of a computer system not being up to it, it's the chancellor not being up to it.
"The story of the last few months, crypto has crashed and so has the chancellor. And how similar they are. The chancellor and cryptocurrency. They came out of nowhere, the value surged, looked like the future.
"But it has all turned out to be one giant Ponzi scheme."
"He's been found out, he's been rumbled," added Miliband. "Let's face it, his colleagues all know it. He's out of touch with what is happening in the country, and he's out of his depth when it comes to the challenges this country faces."
Ed Miliband is on fine form. He should have run for PM.
— Gary Lineker 💙💛 (@GaryLineker) May 17, 2022
Ed Miliband making a good speech in Commons on windfall tax – sweeping in all the other problems/mishaps from Govt on cost of living. Makes fun of Rishi Sunak for blaming Govt IT system for not being able to uprate benefits – "the dude from Silicon Valley"
— Jane Merrick (@janemerrick23) May 17, 2022
Brilliant speech in the Commons just now by @Ed_Miliband attacking the Chancellor's failure to act to protect people from unaffordable price rises. Just look at the faces on the Treasury bench.
— Hilary Benn (@hilarybennmp) May 17, 2022
Sunak told MPs he will act to cut costs for people but did not say when this will happen.
Sunak said history shows an "unconstrained fiscal stimulus" at such a time risks "making the problem worse", adding: "Prices pushed up still further, expectations of higher inflation becoming ingrained, a vicious cycle leading inexorably to even higher interests and more pain for tens of millions of mortgage holders and small businesses.
"Make no mistake, simply trying to borrow and spend our way out of this situation is the wrong approach and those paying the highest price would be the poorest in our society.
"Instead, on this side of the house we're taking a careful, deliberate approach. We will act to cut costs for those people without making the situation worse, we will continue to back people who work hard – as we always have – and we will do more to support the most vulnerable."
Sunak faced shouts of "when?" from the opposition benches.