Politics
Boris Johnson Grimaces His Means Via Prime Minister's Questions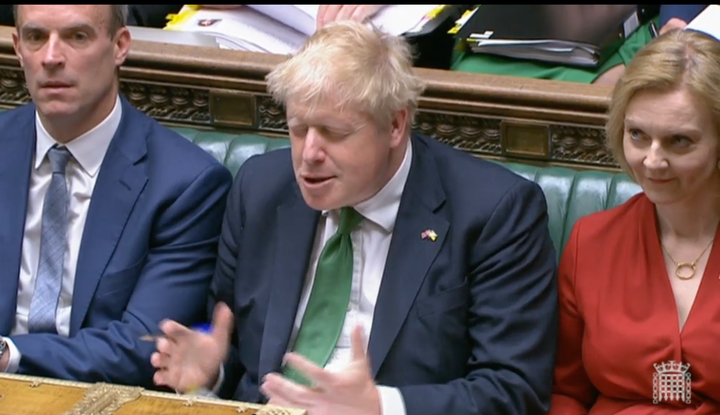 Boris Johnson grimaced his way through prime minister's questions today as a Labor MP told him he was "loathed" by his own party.
It was Johnson's first PMQs after he survived a bruising confidence vote on Monday evening.
He won by by 211 to 148 but the saga has left him severely damaged with more than 40 per cent of Conservative MPs voting to oust him.
While the PM received a big cheer from a number of Tory MPs when he entered the Commons' chamber, others remained stony-faced.
On a number of occasions the PM could be seen frowning, glaring at Keir Starmer and shaking his head.
However, critics accused Labor leader Starmer of missing an "open goal" by not asking the prime minister about the humiliating confidence vote.
It was instead left to former Labor minister Dame Angela Eagle who told Johnson he was "loathed" by his own party.
She told the Commons: "This week's events have demonstrated just how loathed this prime minister is and that's only in his own party.
"As his administration is too distracted by its internal divisions to deal with the challenges we face, can the prime minister explain if 148 of his own backbenchers don't trust him why on earth should the country?"
Eagle, Johnson and Blackford
Listening to her question, Johnson raised his eyebrows before replying: "I can assure her in a long political career so far – barely begun – I've of course picked up political opponents all over and that is because this government has done some very big and very remarkable things which they didn't necessarily approve of.
"And what I want her to know is that absolutely nothing and no-one, least of all her, is going to stop us with getting on delivering for the British people."
Johnson later went on to pull a number of faces when Labor MP Afzal Khan poked fun at him, saying: "I'd have more sympathy with the words 'get on with the job' if it actually started in the first place."
Meanwhile, Westminster SNP leader Ian Blackford tore into the prime minister, comparing him to the black knight who claimed his mortal injuries were just "flesh wounds" in the 1975 film Monty Python And The Holy Grail.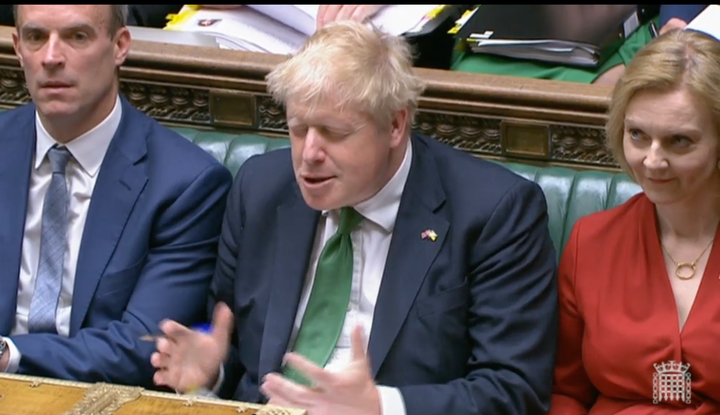 Boris Johnson reacts to Afzal Khan's comments
Blackford said: "We now have a lame duck prime minister presiding over a divided party in a disunited kingdom.
"How does the prime minister expect to continue when even unionist leaders in Scotland won't back him?"
Johnson thanked Blackford for his "characteristic warm words" and told him he was the "biggest and most powerful and effective" advocate of the United Kingdom.
He added: "I don't know how long he's going to last here as leader of the SNP…long may he rest in place."
The Ross, Skye and Lochaber MP replied: "The prime minister is acting like Monty Python's black knight, running around declaring it's just a flesh wound.
"And no amount of delusion and denial will save the prime minister from the truth: this story won't go away until he goes away."